The protests that followed the killings of members of our Black communities this spring served to wake many people up to the realities of racism in America—realities to which the Waldorf movement is not immune. Accepting the fact that racism exists within Waldorf Education and taking on the work of recognizing and eradicating it from our classrooms is a goal to which we must commit ourselves if we are to truly educate our children (and ourselves) toward freedom.
To this end, Sunbridge's 2020 Teachers Conference tackles the important task of uncovering racism in the Waldorf movement and identifying steps we must take to dismantle it.
Over the course of three one-and-a-half-hour sessions taking place Friday evening and Saturday, we will:
Define and articulate the ways in which the Waldorf curriculum centers whiteness and sets it up as an ideal, to the detriment of all;

Use the frameworks of racial identity formation and biography work to better understand how we become who we are in a racialized society and how that impacts our engagement with the children in our care;

Share practical tools, resources, and success stories with the goal of dismantling racism in Waldorf schools and communities.
Join us over Zoom for this real-time, virtual event.
Facilitators
Keelah Helwig is currently an early childhood educator and chair of the Early Childhood program at The Waldorf School of Garden City (her alma mater). Keelah has served as chair of WSGS's College of Teachers and is a founding member and chair of its Diversity, Equity, and Inclusion Committee. She is proud to be a founding member of the Sunbridge Institute Diversity Scholarship Fund Committee and is also a Sunbridge Board trustee. A skilled facilitator, mentor, evaluator, and shepherd, Keelah is passionate about motivating school communities and inspiring lasting and meaningful change. Following her WSGS graduation, Keelah earned a BA in theatre from Spelman College and her masters in early childhood education from Sunbridge College.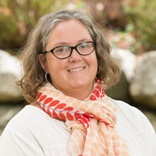 Vicki Larson, director of communications and marketing at Green Meadow Waldorf School since 2011 and a founding member of Sunbridge's Diversity Scholarship Fund Committee, has been involved in anti-racism initiatives and community organizing for social justice for more than 20 years. Vicki has held positions in publishing, resource development, translation and interpretation (English/Spanish), international women's human rights, marketing, communications, and diversity, equity, and inclusion. A skilled trainer/facilitator, writer, and editor who loves working with young people and adults, she has been a consultant to Waldorf schools across the US since 2014. Vicki graduated with honors from the University of Florida in Gainesville with a major in English and minors in Religion and Women's Studies.
Schedule
This workshop will take place in live Zoom sessions.
Sessions
Friday, November 13: 7-8:30pm
Saturday, November 14: 10-11:30am and 12:30-2pm
All times are US EASTERN
Cost
$150
Discount Options
10% off if you are a Sunbridge program alum OR for schools sending two or more registrants
50% off for current Sunbridge program students
You may apply one discount only
Registration
Registration opens September 21.
Questions?
Please contact Barbara Vitale, admissions and summer coordinator, at [email protected] or 845-425-0055 x20
Sunbridge reserves the right to make faculty substitutions when necessary.