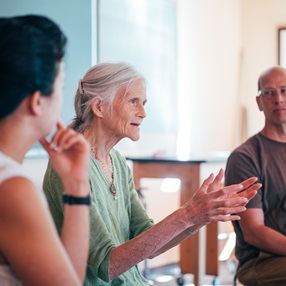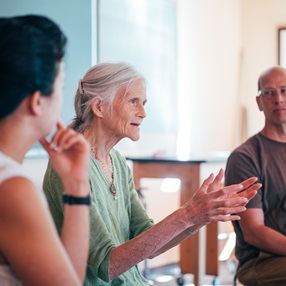 Summer Series 2016 workshop with Nancy Mellon of Healing Story
Open to teachers, parents, counselors, healers, and story-lovers of all backgrounds
Led by a master (and beloved) storyteller, this inspiring workshop delivers insight into the spells cast by electronic devices, and offers practical advice for originating and applying stories that restore balance and well-being.
You will:
Learn how to create specific plot-lines and characters that help relieve unhealthy electronic dependencies
Build a repertoire of age-appropriate stories to meet technology with increased clarity and ease
Develop a pharmacopeia of practical storytelling skills
Discover your inner storyteller as a healing presence
Instructor
Nancy Mellon, MA, is an elder in the global storytelling renaissance. A psychotherapist, mentor, and author (Storytelling with Children, Storytelling and the Art of Imagination, Body Eloquence), for thirty years she has awakened the goodness, truth, and beauty of the spoken and written word. Nancy teaches widely in the US and abroad, following the path of storytelling deep into the physiological processes of the human body and pioneering new awareness of the relationship between language, imagination, and well-being. She has been connected with the Waldorf movement since 1976. To learn more about Nancy and her work, visit her website, www.healingstory.com.
Students who took a storytelling course with Nancy in summer 2015 had this to say:
~ The quality of this course was outstanding…superb!
~ I felt inspired by Nancy's presence, generosity, and intelligent heart.
~ The course was very experiential, offering daily opportunities for both group and personal story-crafting. Nancy's insights and lifelong study of storytelling guided our direction skillfully.
~ Nancy brought true human warmth and wisdom to our circle.
~ Nancy's (lessons) were well-planned and thoughtful. Her insights into our soul life and the soul life of the children is what is most needed today and now.
~ It was all so excellent.
~ This class was life-changing for me.
Your workshop also includes eurythmy with Patti Regan of Great Barrington Rudolf Steiner School (MA).
Workshop Schedule
All day Thursday starting 8-8:30am, through 3:30pm Friday
Workshop Fee
$285 (includes all materials and non-refundable $25 registration fee). Discounts are available. See Summer Series page for details.
Questions?
Contact Amina Phelps, Admissions & Summer Series Coordinator, at [email protected] or 845-425-0055 x20.
Sunbridge Institute reserves the right to cancel any offering at any time. If Sunbridge cancels, all registrants will be notified and will receive a full refund. If the registrant cancels, he or she will receive a full refund less the non-refundable registration fee.  Sunbridge reserves the right to make faculty substitutions when necessary.